Welcome to the Actress of the Month Photo Gallery
This month featuring: Alicia Silverstone
Clueless, Excess Baggage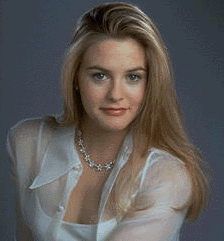 This Photo Gallery contains some of the highest quality images that are available on the web.
Due to the space required to store the images, all of them can not be shown at the same time. Therefore, the gallery will be updated every week with new images and the old will be removed. The featured actress will also be changing every month so bookmark this page and check back often.
---
The Actress of the Month Photo Gallery is on a password protected page.
To obtain the password needed for entry please follow these insructions.
(The entire process should take under 30 seconds)
---
I. If the site does not automatically load in a new window, Click on the following banner to visit the NetRadio site.

II. Locate the "Pick and Click" header on the left side of the main page. It should look like the following example:
MUSIC
Cafe Jazz
Christian Hits
Classical
???????
III. The Password is the name of the fourth music type listed under "Music". (7 characters long, Case sensitive)
IV. After you have found the Password use your browsers back button to return to this page and then click on the following link to enter the gallery.

---
"Enter the Alicia Silverstone Photo Gallery"
Counter by Rapid Axcess